On 16 February, Oricon released a report summarising the sales trends of the music software works by Korean artists, which has a growing market in Japan. In the year of 2011, the overall sales of the music software market (including singles, albums, music DVDs and music Blu-ray discs) dropped for the 5th consecutive year, but the revenues of the music software released by Korean artists in Japan saw a dramatic increase. Total revenues were a record high of 24.47 billion yen.
A total of 10 singles and albums from artists such as Tohoshinki, Big Bang, Shoujo Jidai, KARA, Jang Geunsuk, T-ara and 2NE1 won first place in the weekly (Oricon chart) rankings, 5 more than the original record in 2008, since the album rankings began being released in 1970.
Also, under the album sales category in the yearly rankings, a total of 3 groups entered the Top 10. Tohoshinki was ranked 9th, with a revenue of 2.66 billion yen.
2011 Korean Artists Single Rankings Top 5
1. Why? (Keep Your Head Down) / Tohoshinki (Released: 2011/1/26) – 285,051 sold
5. Superstar / Tohoshinki (Released: 2011/7/20) – 184,317 sold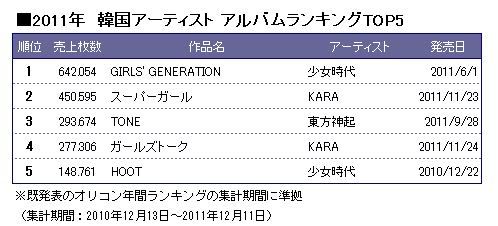 2011 Korean Artists Album Rankings Top 5
3. TONE / Tohoshinki (Released 2011/9/28) – 293,674 sold
(irrelevant portions omitted)
Source : [Oricon]
Translated & Shared by : dongbangdata.net